Product Overview
These trailer tires are DOT approved for high speed use on US Highways.

These 10-Ply trailer tires have a high load capacity.
It is unlawful to mount a trailer tire with a load capacity that is higher than that of the wheel it's being mounted to.
This tire can only be mounted to trailer wheels rated equal to or greater than 1,520 lbs.
This means that this tire cannot be mounted to a 4-lug wheel because the load capacity of 4-lug wheels is not high enough.
Basically...
We Cannot Assemble This Tire To Wheels Rated Under 1,520 LBS. For 4-Lug Wheels & NON-HD 5-Lug Wheels: Use Load D Tire
MORE INFORMATION ABOUT THE KENDA LOADSTAR ST145/R12 10-PLY TRAILER TIRE
ST145/R12 Tires are a radial, 12 inch trailer tire.
They come in a variety of load ranges, Load range C, D, and E.
The size can be read in a few different ways, 145R12 , ST145R12, or ST145/R12.
These radial 12" tires use the same size rim as a 4.80x12 or 5.30x12 tire.
This tire commonly uses a 4" wide, 12" wheel (12x4).
Usually a 12x4 or 12x4.5 wheel is used.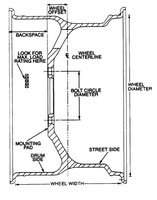 They carry a load of 1520lbs per tire when filled with 80PSI of air.
Radial tires such as this ST145/R12 are best when trailers endure long trips,
the radial design allows the tire to sit "flatter" on the road,
allowing more tread to meet the road.
This improves the tread life of the tire. While these tires may be a bit more
expensive than bias ply 12 inch tires, you can be assured that you will
be receiving a quality tire made by Kenda.
The ST145 R12 E Trailer Tire is one of the best trailer tires
on the market today and is manufactured by Kenda.
The computer generated tread design in conjunction with a new tread
rubber compound provides superior traction in wet or dry conditions.
Kenda's radial tires are continually tested to help ensure a
smoother ride while providing additional stability at highway speeds.
All Kenda trailer tires are proven to improve handling and
enhance the ride characteristics of the towed vehicle.
Warranty Information
For the first twelve months from the date of sale, Kenda will replace your Kenda/Loadstar tire for any reason as part of our Worry-Free Warranty. Subject to the limitations contained in this Limited Warranty, your new KENDA/LOADSTAR tires are warranted under this Limited Warranty against failures due to defective materials and workmanship for a period of five (5) years from the date of tire manufacture. Tire manufacture date is determined by the Department of Transportation (DOT) - prescribed tire identification numbers.